The Grimpendium with J.W. Ocker
Friday, October 28th, 2022
2:30 pm & 5:30 pm
Lyndhurst Welcome Center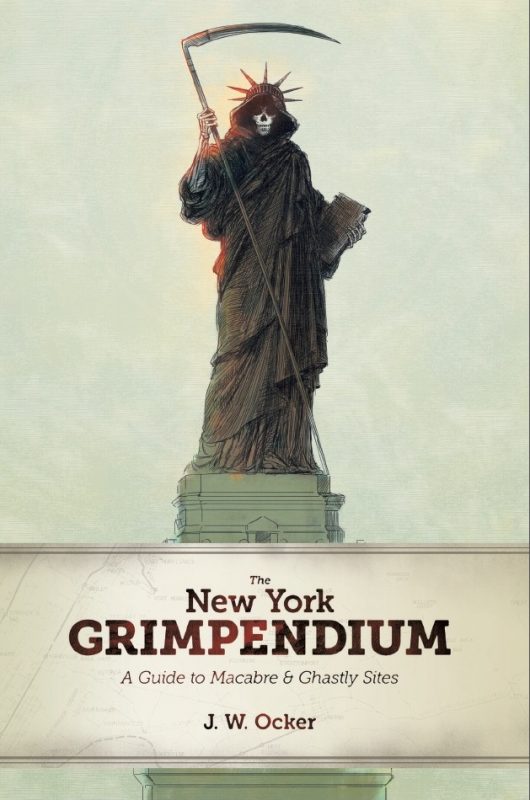 A special treat for Halloween, Lyndhurst welcomes author J.W. Ocker who will give a special talk on all things grim in our region! Based on his bestselling book, The New York Grimpendium, Ocker will regale visitors with a personalized itinerary of the best grim and spooky sights nearby, including Lyndhurst itself!
"A droll and gruesome Baedeker…readers might die laughing, gag on its tasteless subject matter or even shed a tear or two." —Sam Roberts, New York Times
Winner of a 2013 Lowell Thomas Gold Award from the Society of American Travel Writers Foundation.
Part personal travelogue, part guidebook, this book covers hundreds of macabre sites, attractions, and artifacts, all drawn from the firsthand experiences of J.W. Ocker, who covered 9,000 miles of New York roadway to visit such sites as a 19th-century brain collection to the home of an artist whose muses are serial killers to a ship graveyard, and many other of New York's creepier parts.
The New York Grimpendium will be on sale in the Lyndhurst Gift Shop should attendees wish to purchase a copy. All other books by Ocker can be purchased from him directly. Visitors will also be able to hear about Ocker's latest book: The United States of Cryptids. After the talk, Ocker will be on hand to answer questions and sign books.
J.W. Ocker is the Lowell Thomas- and Edgar Award-winning author of macabre travelogues, spooky kid's books, and horror novels. His books include A Season with the Witch, Death, and Douglas, Twelve Nights at Rotter House, and Cursed Objects. His next book is a middle-grade horror novel called The Smashed Man of Dread End. Ocker lives in New Hampshire. Visit him at oddthingsiveseen.com.
All visitors must have a pre-purchased ticket to enter the event. There might be some walk-on availability.
Please present printed tour tickets or have them available on your smartphone to show to Welcome Center staff when checking in.
The event begins at the listed time, please arrive early to give yourself time to check-in.
The ticket does not include entry into the Mansion but provides access to the grounds.
All ticket purchases are non-refundable.
As in any public setting, we cannot guarantee that you will not be exposed to COVID-19. By visiting Lyndhurst, you voluntarily assume such risks.
Tickets
General Admission: $30
Online: Online ticket sales close once the performance has begun.
By Phone: Call 1(888)718-4253 opt. 1 (additional fees apply to phone orders)
Tickets are non-refundable and non-exchangeable.
Schedule
The talk lasts about 1 hour.
The afternoon session is at 2:30 pm and the evening session is at 5:30 pm.
J.W. Ocker will be available between each talk for visitors to purchase a book.
The ticket includes entry to the event and access to the Lyndhurst Grounds to explore our exterior decor for the season. It does not include the Spirited Mansion Weekend admission.
All tour tickets must be purchased online, in advance as space is limited.
Plan Your Trip
The event takes place at the Welcome Center Tent, the brick complex located just past the Lyndhurst mansion. Ticket holders will check in outside the tent after walking through the south archway. Plan to arrive at the Welcome Center 15 minutes prior to your timed entry.
Accessibility
Lyndhurst welcomes all visitors, but please note that this event requires the ability to be standing for periods of time. Our Welcome Center is ADA accessible and has restroom facilities.