Thursday, June 2nd, 2022
6:30 pm - 9:00 pm
Lyndhurst Veranda and Carriage House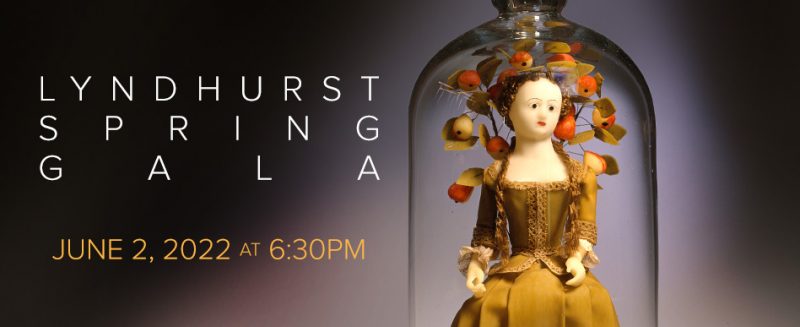 LYNDHURST SPRING GALA
Celebrating
Women's Work
A New Art Exhibition
Enjoy a glorious summer's evening at Lyndhurst with an exclusive preview of our acclaimed art exhibit.
Thursday, June 2, 2022
6:30 pm Cocktails on the Mansion Veranda
7:30 pm Buffet Dinner in the Carriage House Tent
Jazz by Tony Jefferson Trio
RSVP by May 25, 2022
Women's Work explores the use of traditional domestic handcrafts by contemporary women artists.  More than 125 works spanning 300 years are displayed in both the Lyndhurst mansion and the exhibition gallery.  Historic precedents are placed side-by-side with cutting-edge contemporary works. Enjoy a private viewing of the mansion exhibition during the cocktail reception and viewing in the exhibition gallery during the buffet dinner.
The exhibition includes such historic creators as Martha Washington and Dolley Madison and noted contemporary artists Judy Chicago, Louise Bourgeois, Faith Ringgold, Cindy Sherman, Kiki Smith, Kara Walker, Jenny Holzer, Sheila Hicks, Maira Kalman, Deborah Kass, Yoko Ono, and more. The exhibition was recently profiled with a full-page story in The New York Times.
This is an opportunity to experience this new exhibition at your own pace through private viewing. Your support of Lyndhurst's gala makes trailblazing exhibitions like Women's Work possible.
The cocktail reception will be held outdoors, and the buffet dinner will be held in an outdoor tent with ventilation.  We request that masks be worn in the mansion and exhibition gallery. Thank you.
Purchase Gala Ticket
*Platinum level ticket purchaser and above includes an invitation to a private reception on June 18, 2022, at Lyndhurst for the Westminster Dog Show.
*You may also mail your Spring Gala 2022 check payable to Lyndhurst at Lyndhurst, 635 South Broadway, Tarrytown, NY 10591.
MAKE A DONATION
I am unable to attend but would like to make a tax-deductible donation.
Make a Donation
Gala Honorary Committee
Mondaire Jones, U.S. Representative, 17th District
Andrea Stewart-Cousins, New York State Senate Majority Leader
Thomas Abinanti, New York State Assembly, 92 District
George Latimer, Westchester County Executive
Ken Jenkins, Deputy County Executive
Jewel Williams Johnson, County Legislator, 8th District
Mary Jane Shimsky, County Legislator, 12th District
Karen Brown, Mayor of Tarrytown
Richard Slingerland, Village Administrator, Tarrytown
Janet T. Langsam, CEO, ArtsWestchester
Natasha Caputo, Director of Tourism & Film, Westchester County
Lyndhurst Advisory Council
Joe Berry
Jan Blair
Elizabeth Burr
Judy Clark
Robert Clarfeld
Barbara Cohen
Barbara Deisroth
Michael Garcia
Andrea Glanz
Catherine Ladnier
Bill Miller
Walter Montgomery
Chris Nolan
David Scott Parker
Stephen Tilly
Gray Williams
Ken Woodcock
For more information about the Lyndhurst Spring 2022 Gala, please contact Sheila Emery Murphy, Senior Manager of Development at smurphy@savingplaces.org or by phone at (914) 303-6833.