The Gilded Age Cookbook: Author Talk & Tour
Friday, September 29th, 2023
3:00 pm - 5:30 pm
Welcome Center and Historic Mansion
Step back in time and savor the culinary history at Lyndhurst as we delve into the opulent world of The Gilded Age Cookbook by acclaimed author and food historian, Becky Libourel Diamond. The afternoon will start with a tour of the Lyndhurst mansion, focusing on the lavish dining room and innovative kitchen, followed by the author's talk and book signing. Guests will have the opportunity to purchase Becky Libourel Diamond's books and have them signed.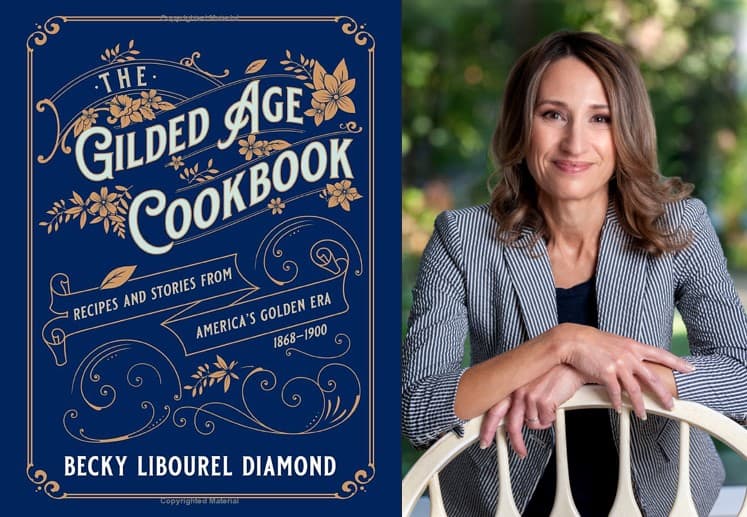 The Gilded Age Cookbook transports the reader back in time to lavish banquet tables set with snow-white linen tablecloths, delicate china, and sparkling crystal glasses. Cuisine featuring rich soups, juicy roasts, and luscious desserts come to life through historical images and artistic photography. Gilded Age details and entertaining stories of celebrities from the era—the Vanderbilts, Astors, Goelets, and Rockefellers—are melded with historic menus and recipes updated for modern kitchens.
Becky Libourel Diamond has had a varied career combining writing and research. Her second book, The Thousand Dollar Dinner, tells the unique story of a nineteenth-century "Top Chef"-style competition between Philadelphia restaurateur James Parkinson and the Delmonico family of New York. The result was a luxurious seventeen-course feast that helped launch fine restaurant dining in America as we know it today. She is also the author of Mrs. Goodfellow: The Story of America's Cooking School, a successful nineteenth-century pastry chef who also ran an innovative cooking school for young women – a Philadelphia first.
Season presented by:
Tickets
General Admission: $28
Senior: $26
Online: Online ticket sales close once the performance has begun.
By Phone: Call 1(888)718-4253 opt. 1 (additional fees apply to phone orders)
Tickets are non-refundable and non-exchangeable.
Schedule
Events is from 3:00 pm- 5:30 pm
Please arrive 15 minutes early to check-in.
Groups will split into smaller groups and tour the mansion with Lyndhurst Staff, who will discuss the dining room and kitchens. Staff will then walk the groups back to the Welcome Center for the talk with the Author, who will then hold a meet and greet and book signing.
Plan Your Trip
The event takes place at the Welcome Center, the brick complex located just past the Lyndhurst mansion, and in the Historic Mansion. Please plan on being able to stand for a period of time and to traverse the staircases in the mansion.
Plan to arrive at the Welcome Center 15 minutes prior to your timed entry.
Accessibility
Lyndhurst welcomes all visitors, but please note that this event requires the ability to be standing for periods of time. Our Welcome Center is ADA-accessible and has restroom facilities. The historic mansion does not have an elevator and guests will have to go up and down sets of stairs to visit the basement level kitchen.