Scouting Requests
Emma Gencarelli
Film & Collections Assistant
EGencarelli@savingplaces.org
Lyndhurst welcomes film and photography professionals and has a long and successful history of working with productions of all sizes on the 67-acre property. Film scouts can schedule appointments in advance or drop-in when in the area to see our landscaped grounds and 15 historic buildings. Lyndhurst has many different aesthetics, both outside and in, and multiple support spaces suitable for your project. We are also available as a basecamp and for parking and holding.
Support Spaces
Lyndhurst has the support facilities to make your production successful. If you are filming in the area but not at Lyndhurst and need basecamp facilities or additional parking, we are often able to accommodate those needs. Our support spaces include:
A full kitchen for craft service.
Multiple parking areas for vehicles ranging in size from regular crew cars to tractor-trailers.
A 100′ x 50′ event tent that holds 250 people.
A maintenance workshop.
Large interior spaces that are perfect for holding areas, hair and makeup, as well as private and separate spaces for talent or for children and chaperones.
Access & Logistics
Distance
Lyndhurst is located just 35 minutes outside of Manhattan and is situated conveniently in the 'zone' for film productions based in NYC looking to stay within the required 25-30-mile radius of Columbus Circle for Unions, Guilds, and other Organizational Chapters wishing to keep the work local.
Transportation
We are positioned almost equidistant between the Tarrytown and Irvington Metro-North train stations, which are a quick 5-10-minute drive from the property. The Tarrytown train station has regular express trains from New York hourly. We are also just off Highways 287 and 87, near the Saw Mill River Parkway, and immediately below the Governor Cuomo Bridge.
Permits & Tax Credits
While the village of Tarrytown has an involved permitting process for filming downtown, we are located outside the central village on private property and film companies generally have a much quicker and easier time gaining permits to film at Lyndhurst. We can help guide you through the process and expedite it if necessary. We are also well-connected with film-related programs in the County and the State.
Additional Photo Resources
Wedding, Engagement, & Event Photography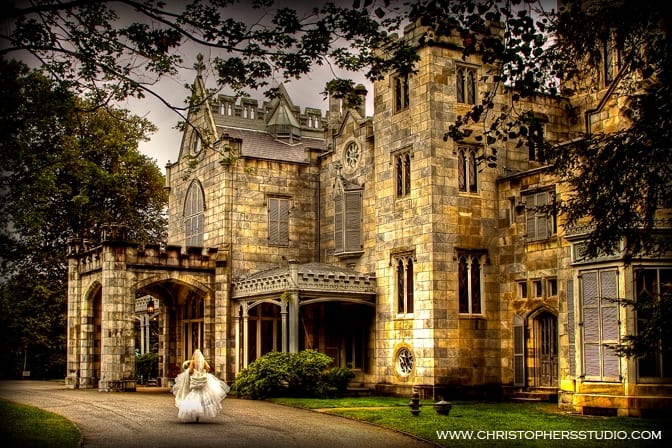 Lyndhurst offers the perfect backdrop for your professional engagement, wedding, and other special event photography. Whether your event is taking place here on the grounds or somewhere else, our aesthetic is aptly suited for your needs with the Gothic mansion, expansive lawns, and large historic trees.
IF YOU ARE INTERESTED IN A WEDDING CEREMONY or PHOTOGRAPHY, PLEASE FILL OUT THE REQUEST FORM BELOW.
Fees & Scheduling
Please be aware that all professional celebratory photography must be scheduled in advance and is required to have a paid permit. Most Saturday afternoons from May to October are not available for event photography as we have pre-booked weddings on site. We request photography take place during business hours of 9 am to 5 pm if possible.
Exterior photography

: Please send a request in the form below to get accurate pricing during this time.

Interior photography

: Not available at this time.
The photography permit fee is prepaid and non-refundable.
Please fill out the inquiry form below to reach out to us and schedule your special session!
Visitor Photography
Lyndhurst welcomes and encourages visitors to take photographs for their own personal use and enjoyment during their visit. Photography on the grounds is permitted during our business hours of 9:00 am to 5:00 pm daily, except when the site is closed for an event.
If you will be taking a tour in the Mansion, we allow casual, hand-held, non-flash photography at the discretion of your tour guide. During busy tour seasons, photography within the mansion may be restricted. Visitors on mansion tours may not wait for a room to clear to take their pictures and must take their pictures while staying with their tour group. Please ask your tour guide if you have any questions. Video or filming during a tour is not permitted under any circumstances. Due to capacity issues, interior casual photography may not be allowed during October and December. Photography is not allowed during our theater performances.
We encourage you to post your Lyndhurst pictures on social media and ask you to tag us:
For Facebook: @LyndhurstMansion
For Instagram: @lyndhurst_mansion
For Twitter: @LyndhurstNY
Visitor photography must be for private and personal use only. Any photography that requires the hiring of a professional photographer, promotes a brand (including social media), is for business, is for a portfolio, or for photographs that will be offered for sale requires prior permission and the purchase of a permit.
Upon entering the property, you grant to Lyndhurst and its employees, agents, and assigns the right to photograph you and your dependent(s) for use in Lyndhurst print, electronic, and digital media and publications.
Photography Rules
Personal, casual, non-flash photography is permitted inside the mansion during tours at the discretion of your guide.  Due to capacity limitations, interior photography may not be allowed during October and December. Photography is not permitted inside the mansion during special events or theater performances. Video, filming, selfies, tripods, or other external equipment is not permitted in the mansion at any time. All commercial photography, including wedding and engagement, is prohibited without express written consent and requires the purchase of a permit. The use of unmanned aerial vehicles or drones while on Lyndhurst property is prohibited.
Upon entering the property, you grant to Lyndhurst and its employees, agents and assigns the right to photograph you and your dependent(s) for use in Lyndhurst print, electronic, digital media, and publications.
To request permission to photograph or film on the grounds, please call us: (914)-631-4481 or email us: lyndhurst@savingplaces.org